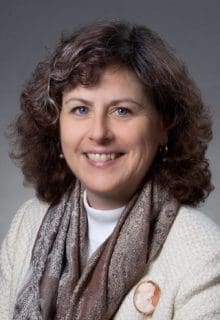 Louise Legault
"SRDC provides a unique opportunity for researchers to conduct sound, rigorous research outside of a university setting. The organization is learning oriented, striving for excellence and innovation in the rapidly evolving environment of research."
Dr. Louise Legault has been conducting applied social research with SRDC since 2006, where she has been responsible for both the research and operational elements of the design, implementation, and evaluation of small- and large-scale pilot projects. Louise has lead or collaborated in numerous policy-relevant evaluation and research projects in the areas of education (from pre-kindergarten to post-secondary), Francophone linguistic minorities, resilience, youth crime prevention, immigration, and other issues of concern to vulnerable groups and communities. She is skilled in experimental and quasi-experimental research methodologies as well as quantitative statistical methods of analysis. Over the course of her career, she has designed numerous measurement tools and designed various data collection methodologies for projects at SRDC and in her work prior to SRDC, where she was involved in evaluation and research projects. Louise has a total of 20 years of experience related to evaluation, research, and consultation services.
Dr. Louise Legault left her permanent position with SRDC in September 2015, but continues to collaborate with SRDC on various projects.
Louise holds a Ph.D. in Experimental Psychology and a Bachelor of Science in Sociology from the University of Ottawa. She is a member of the Canadian Evaluation Society, the Canadian Psychology Association, and the Canadian Positive Psychology Association. Louise holds a Canadian Evaluation Society Credentialed Evaluator designation.